Synopsis
Edit
(Some people call this show Bing and Bong.) Tiny Planets follows Bing and Bong on their adventures in the Tiny Universe. Bing and Bong are two friendly furry aliens (Bing is big in size and resembles an amiable yeti, Bong is his smaller six-legged sidekick, somewhat resembling a cross between a tarantula and a poodle) who live on a planet with an apparently icy climate. Their fluffy white sofa catapults them across their stellar system to explore the mysteries of light and colour, animation, sound and the water cycle among other things. Their stellar system has six other planets, each with a speciality to it (Nature, Sound, Light and Color, Technology, Self, and Stuff, respectively). Tiny Planets' surreal and captivating universe was created with CGI animation which gives the series a spectacular depth of scale and vibrant colour that captures young children's attention. This animation is also evident on their website and was the basis for their BAFTA award.
In its original form Tiny Planets encourages its pre-school viewers to make their own discoveries as they solve problems. The program helps children examine how things work, strengthen their observation skills, consider underlying relationships and identify/test new ideas. Each 'silent' episode told a simple tale that children could watch by themselves and understand. Watching with a parent gave the added dimension of asking questions about what was happening, enhancing the experience and building a questioning mentality in the child. However, such concepts were alien to certain markets (notably the USA) so the narrator character of Halley was added to the completed episodes for certain markets outside the UK.
The programme eventually did make it back to the U.S. on Sesame Workshop's former joint venture with Nickelodeon, the Noggin cable channel, in 2002. The 5 minute episodes would be shown in between 30-minute shows on the channel. However, the show proved so popular that by mid-2004 Noggin showed it in its own 30-minute block each day (after Bob the Builder), showing several episodes in the time span. As evidence of its growing popularity in the United States, the Tiny Planets merchandise site split after entry into separate UK and U.S. versions; a Spanish language version of the Tiny Planets website was also introduced. The Tiny Planets website also had a section imagining a NASA space mission to photograph the Tiny Planets universe which introduced young children to the U.S. space agency's work in space exploration.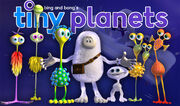 Tiny Planets aired on the American children's channel Noggin (now Nick Jr.) from 2002 until 2009 when Noggin was re-branded as Nick Jr. and continued to rerun until 2011.
The Tiny Planets
Edit
Theme Song
Edit
Bing and Bong ([echoing] Bing and Bong, Bing and Bong, Bing and Bong)
Heroes of the Universe
Adventure every day
From their home in space
Bing and Bong ([echoing] Bing and Bong, Bing and Bong, Bing and Bong)
There's a tiny planet calling
A new exciting day
And we're on our way
Theme Song (Extended version)
Edit
Bing and Bong ([echoing] Bing and Bong, Bing and Bong, Bing and Bong)
There's a tiny planet calling ([echoing] Calling, calling, calling)
Bing and Bong ([echoing] Bing and Bong, Bing and Bong, Bing and Bong)
Heroes of the Universe
Adventure every day
From their home in space
Bing and Bong ([echoing] Bing and Bong, Bing and Bong, Bing and Bong)
There's a tiny planet calling
A new exciting day
And we're on our way
(Reaching out into other worlds)
(Satellite control, satellite control)
Bing and Bong ([echoing] Bing and Bong, Bing and Bong, Bing and Bong)
Heroes of the Universe
Adventure every day
From their home in space
Bing and Bong ([echoing] Bing and Bong, Bing and Bong, Bing and Bong)
There's a tiny planet calling
A new exciting day
And we're on our way
Tiny planet travellers
Flying through the stars
On their way to a mission
Passing Venus, passing Mars
Always looking for the answers
On their sofa out in space
In the beauty of the universe they play
Bing and Bong ([echoing] Bing and Bong, Bing and Bong, Bing and Bong)
Heroes of the Universe
Adventure every day
From their home in space
Bing and Bong ([echoing] Bing and Bong, Bing and Bong, Bing and Bong)
There's a tiny planet calling
A new exciting day
And we're on our way
Bing and Bong ([echoing] Bing and Bong, Bing and Bong, Bing and Bong)
(That's one small step for man, one giant leap for mankind)
And we're on our way
Bing and Bong ([echoing] Bing and Bong, Bing and Bong, Bing and Bong)
There's a tiny planet calling ([echoing] Calling, calling, calling)
Bing and Bong ([echoing] Bing and Bong, Bing and Bong, Bing and Bong)
There's a tiny planet calling ([echoing] Calling, calling, calling)
([Echoing] Calling, calling, calling)
(Reaching out into other worlds)
Supervising Sound Editor
Timothy J. Borquez, MPSE
Sound Designer
Jeff Hutchins
Sound Editors
Eric Freeman
Tom Syslo
Re-Recording Mixers
Eric Freeman
Timothy J. Borquez, CAS