The most surreal and beautiful of the planets, this planet consists of a series of dramatic islands linked by picturesque bridges, and stepping stones, all floating in a blue sky replete with fluffy clouds. Gondolas provide Bing and Bong with transportation between the islands. The Flockers here are two headed unipods with a liking for the exotic fruits that grow in abundance between the pagoda-like buildings.[1]
From space, in Halley's intro and in still renders, the Tiny Planet of Self appears to have a thick covering of bright green, orange, and magenta clouds. In the episode intros its clouds are dull blue and peach. On the 'surface', however, the sky is only partially cloudy with sunset-pink clouds. Characters have expressed distress over losing things over the edge of the floating islands, or at the implied thought of falling, however what lies beneath- and at what distance from the 'surface'- is unknown.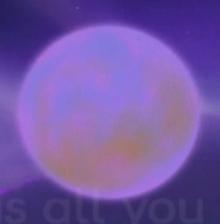 The Tiny Planet of Self has pagodas in which Bing and Bong sometimes meet up with flockers, a race track at which sports events take place, and a skate park. One of the most unique locations on this planet is an island either made of or covered entirely in confectionery. It appears only in the episode Sweet Temptations and the Swipe the Sweets game based off the episode. Opposite to this island, across a bridge, is an island on which fruit trees grow abundantly and a drinking fountain is present.
Halley incorrectly refers to the Tiny Planet of Self as the Tiny Planet of Sound in the introduction to Tuba Trouble.
Appearances
Edit
Episodes:
Tuba Trouble
Night Light, Sleep Tight
Shower Power
That's What Friends are For
Flockercise
Sweet Temptations
Odd Bing out
Box of Tricks
Keep Your Head
Easy Rider
Moving and Grooving
Birthday Build-Up
Be a Sport
Love is All You Need
Pooling Resources
Everyone's a Winner
Games:
Other:
Learn Your Numbers - Rainbow Fruit[6]
References
Edit