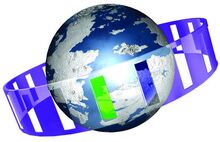 In this magical world of multicoloured rocks and pools, lush lights and fascinating shadows, Bing and Bong discover the secret of rainbows, the fun of shadow play, the magic of animation, and color mixing. The Flockers on this planet are as brightly coloured as the landscape, and very playful.[1]
The Planet of Light and Colour differs in appearance between the model used for the episode theme animation, and the model used in Halley's introduction. In the former it bears a semi-transparent white ring with all of its windows, and hue-shifting oceans. In the latter it bears a metallic-looking ring with its windows opening and closing with in a slow shutter effect, and dark blue oceans. Still renders of the planet depict it with a semi-transparent blue or purple ring with only two coloured windows, and dark blue oceans.
The Planet of Light and Colour appears in the Tiny Planets pilot episode, under the name 'The Tiny Planet of Colours'. The pilot, currently inaccessible, has a story involving colour mixing.[2] The main series would go on to include True Colours, a colour mixing episode on the Planet of Light and Colour.
A prominent location on this planet is an outdoor theatre at which three episodes take place. It has been used to screen movies, present performances, and as a drawing space. The Planet of Light and Colour has a unique species of red and green flowers that illuminate when touched. Bing used these flowers as a signals in The Light Fantastic, however his idea went awry when a neaby butterfly began repeatedly illuminating the flowers, sending false signals.
Appearances
Edit
Episodes:
Shadow Showdown
True Colours
Making Rainbows
Flocker Flicker
Contrasting Views
The Light Fantastic
3D or Not 3D?
Games:
References
Edit